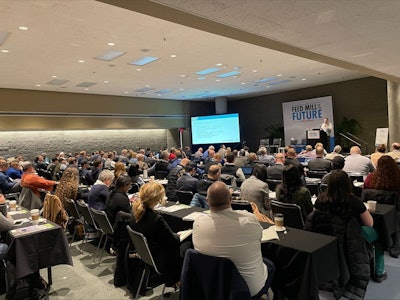 Sold-out inaugural event delivered insights on latest feed mill technologies for better efficiency, reduced environmental impact
The sold-out Feed Mill of the Future Conference, organized by Feed Strategy and Feed & Grain magazines and held on January 24 during the International Production & Processing Expo (IPPE), brought together more than 200 global feed industry professionals to explore one of the industry's hottest topics: sustainability in feed production.
Now, within the context of animal feed, the inaugural event covered key facets of "sustainability," addressing feed industry workforce needs, software and equipment innovations, and energy-efficiency solutions — in addition to the examination of ways to limit the sector's environmental impact.
Prior to the panel discussion, which centered around the feed industry's ability to help its downstream customers reach net zero and featured representatives from two of the world's largest agrifood companies, two of the presentations highlighted feed mill technology applications that can be used to achieve these goals.
Vinicius Chiappetta, global commercial director of Cargill Digital Solutions, demonstrated how using in-line near-infrared (NIR) technology allows mills to update formulas in real time, optimizing raw material inclusions and accurate ingredient nutrient values.
According to Chiappetta, as nutritionists include a safety factor of 0.5% in formulations to mitigate natural nutrient variation risks, a practice that costs an added US$1.50 per metric ton. He noted the significant savings feed millers can capture if formulation adjustments were made based on real-time accurate data.
Similarly, BESTMIX senior product specialist Karel Vervaet described how feed formulations can be leveraged to reduce Scope 3 emissions and reduce the animal ag industry's environmental footprint with feed formulation software. Here, he suggested formulators put constraints on the nutrients' carbon footprint to reduce the emissions of the feed itself and adjust formulations accordingly.
These are just two examples of the strides the feed industry's innovators are making to reduce feed's environmental footprint. (Read senior reporter Ann Reus' article, "How NIR, formulation tech can boost feed's sustainability," for in-depth coverage.)
If you were unable to make the live event, keep an eye out for the on-demand videos, coming soon to FeedStrategy.com or to keep your finger on the pulse, subscribe to the monthly Feed Mill of the Future digital supplement.