The half-day 2024 Feed Mill of the Future Conference, organized in partnership with the American Feed Industry Association (AFIA) at the International Production & Processing Expo (IPPE) 2024, brings together leading feed industry experts to examine emerging feed mill technologies and processes that will impact animal feed manufacturing in the years ahead.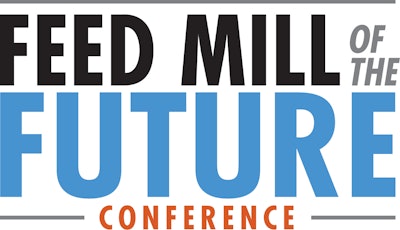 Feed milling professionals will leave with a better understanding of how innovation and early adoption will help achieve their sustainability, productivity and profitability goals of tomorrow. The conference is presented by Feed Strategy and Feed & Grain magazines.
The event will be held at the 2024 International Production & Processing Expo (IPPE) as part of the feed education program.
REGISTRATION IS OPEN! To attend the Feed Mill of the Future Conference, attendees must first register to attend IPPE 2024. See www.ippexpo.org, and visit the "Education Programs" for details.
On-site registration will also be available. Early bird registration ends January 6. Snacks and refreshments will be served before the event and during the coffee break. 
2024 Feed Mill of the Future Conference
January 30, 2024 | 8 a.m. - noon
IPPE 2024 | Georgia World Congress Center | Room A411
$95 early bird | $125 after Jan. 6
Pathways to net-zero emissions: Innovations in feed production and beyond
Keynote speaker: Milan Hruby, vice president of creation design and development, ADM Animal Nutrition
This presentation will unravel the intricate web of strategies, technologies and efforts driving ADM, one of the world's largest agri-food companies, closer to achieving its environmental goals. The talk will explore Scope 3 Life Cycle Assessments (LCAs) in feed production, taking the conversation beyond the mill floor to discover how the company is addressing emissions across the supply chain, from ingredient sourcing to distribution, and fostering collaboration to minimize the carbon footprint. Attendees will gain insights into the factors influencing sourcing strategies, feed formulations, processing techniques and sustainable practices that harmonize profitability with environmental responsibility. Milan Hruby, ADM Animal Nutrition's vice president of creation design and development, will highlight the tangible progress the company has made in reducing emissions, all while optimizing feed quality and animal nutrition, and exploration of how ADM is actively pursuing net-zero emissions in feed production.
Save your energy: A manufacturer's guide to energy efficiency
Presented by Rockwell Automation
Smart manufacturing delivers relevant, real-time information feed producers can use to improve operations, drive productivity and mitigate risks. As shortages in skilled, reliable labor stress the feed industry, investing in what Industry 4.0 and enterprise connectedness can deliver today sets up operations to produce dramatic returns down the road. During this presentation, Rockwell Automation, a leading provider of industrial automation and digital transformation technologies, will offer strategies to boost energy efficiency and add profit to the bottom line.        
How to future-proof pelleting lines for efficiency, quality and long-term cost savings
Presented by Bühler
As energy costs continue to skyrocket, feed producers are looking for ways to improve energy efficiency at the pellet mill, the greatest cost center in the feed mill. Bühler will provide insights into how feed manufacturers can reduce their energy use per ton and continue to maintain feed quality and pellet durability. The presentation will also examine how feed producers can reduce their electric and gas usage while utilizing current equipment and explore the contribution of equipment and facility design.
The power of AI: Using hidden data to increase feed mill margins, animal health
Speaker: Ben Allen, CEO, BinSentry
Artificial intelligence (AI) can reveal unforeseeable and valuable data from feed production to animal consumption. This session will examine the power of AI beyond data, and how feed manufacturers can use it to detect inefficiencies throughout their operation. Allen's talk will also touch on improved feed management practices while saving costs and increasing animal health and performance.
The future of antibiotic-free feed production
Speaker: Dr. Dulmelis "DG" Sandu, poultry technical support services veterinarian, Alltech
Poultry nutritionists and producers have been tasked to deliver on corporate "no-antibiotics-ever" (ABF) pledges. As poultry leaders change course on this policy, once again using ionophores to combat coccidiosis, will other producers follow suit and abandon this challenging model? This talk will examine what poultry producers have gained from this label claim, the future of ABF and explore the valuable lessons poultry nutritionists have learned when maintaining flock health in ABF production.
Panel discussion
How circular economics reduce waste in feed production, enhance animal nutrition
This dynamic and engaging panel discussion will explore circularity's role in sustainable feed production. Learn how alternative ingredients and the use of feed additives reduce waste, maximize nutrition and reduce ingredient costs. The panel will also explore leading-edge manufacturing techniques and technologies to increase efficiency in the mill — as well as considerations for sourcing and formulating with novel proteins, such as insect meal.
Featuring:
Michaela Braun, senior liquid systems and sales specialist, Novus
Christos Antipatis, global SMT additives director, Cargill Animal Nutrition
Maye Walraven, North American general manager and chief impact officer, Innovafeed
Sponsored by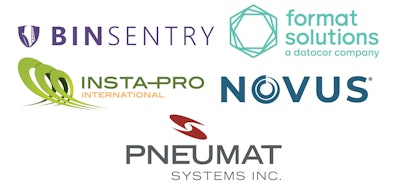 Biographies
Ben Allen is the CEO of BinSentry. He has led multiple hardware, software and ag tech companies with a history of maintaining strong relationships with investors. Prior to joining BinSentry, Allen was the head of global market development at Indigo Ag, an ag tech startup that he helped grow from $300 million in 2017 to $3 billion in 2021. He also led the effort to scale Agri-Trend's Agri-Data software organization, resulting in its acquisition by Trimble.
Dr. Christos Antipatis is Cargill Animal Nutrition's (CAN) global SMT additives director. In this role, Antipatis is responsible for managing and advancing the existing additives portfolio, leading the innovation pipeline and seeking new partnerships to strengthen CAN's portfolio. Prior to joining Cargill, he spent 15 years with DSM Nutritional Products in various positions. He has an undergraduate degree in agricultural engineering with specialization in animal science from the Agricultural University of Athens in Greece; he earned his master's degree in animal nutrition and a Ph.D. in agriculture from the University of Aberdeen.
Michaela Braun is the senior liquid systems and sales specialist at Novus. She is responsible for the automated inventory management system (AIMS) for North American customers using Novus' liquid source of methionine, and she provides feed mill technical support for the company's North America sales teams. Prior to joining Novus, Braun served as a feed manufacturing consultant with NutriQuest Manufacturing Services, where she provided customers with insight into all aspects of the feed manufacturing process. She also managed the University of Illinois Feed Technology Center and coordinated its initial startup. Braun earned her bachelor's and master's degrees in feed science and management at Kansas State University.
Dr. Milan Hruby is ADM Animal Nutrition's vice president of creation design and development. In this position, he and a team of global animal health and nutrition experts leverage ADM's feed additive and ingredient portfolio to develop and introduce synergistic technologies that provide cost-effective real-time solutions in the areas of performance efficiency, sustainability, and health and wellness. Hruby joined ADM in 2019 after holding various technical, research and marketing positions in Europe and the U.S., gaining knowledge of feed enzymes technology, probiotics, electrolytes and essential oils feed additives. He has worked at Finnfeeds International, Danisco Animal Nutrition and Dupont. Hruby received a Ph.D. in poultry nutrition from the University of Minnesota.
Dr. Dulmelis "DG" Sandu is Alltech's poultry technical support services veterinarian. Sandu received her Master of Avian Medicine from the University of Georgia Poultry Diagnostic and Research Center in December 2016. She received her Doctor of Veterinary Medicine from St. George's University in Grenada in 2015, and her Master of Science with a focus on poultry nutrition from Oregon State University in 2008. 
Maye Walraven is Innovafeed's North American general manager and chief impact officer. She oversees the company's international deployment in North America to produce and deliver performant and natural insect-based ingredients for the animal and plant nutrition industries. In addition to her position on the executive committee, Walraven is responsible for managing the company's impact governance and strategy. Prior to joining InnovaFeed, she worked as a strategy consultant at McKinsey & Co. for five years as part of its sustainability and resource productivity practice. Walraven has bachelor's in engineering from Centrale Paris and a master's degree in business from the University of Queensland.