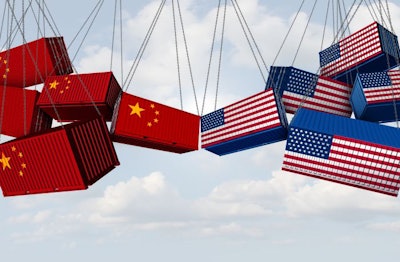 Several factors have contributed to China's record imports of US grains, new report says
Feed demand, grain prices and challenges in Brazil led China to shake up the U.S. feed grain export market in 2020, according to a new report from CoBank.
In 2020, China nearly tripled the previous year's purchase of soybeans and made record purchases of sorghum and soybeans, the report said.
Feed demand for food-producing animals has grown in China as it rebuilds its hog herd after it was depleted by African swine fever (ASF) over the previous two years. For much of 2020, feed grain prices were favorable to Chinese buyers, and weather woes in Brazil have given the U.S. more opportunity to supply China with corn and soybeans.
This has allowed China to hit 80% to 82% of its purchase commitments under phase one of the U.S.-China trade agreement.
"While skyrocketing exports to China have been great news for U.S. crop farmers, agricultural cooperatives, shippers and distributors, the obvious question is how long will China continue buying large amounts of U.S. feed grain given current price levels?" the report said.
CoBank examined several factors to answer this question, including:
Current grain export activity
Exchange rates
China's protein production and consumption rates
Study of hog slaughter trends and pork and chicken production
CoBank said that China's swine sector is the greatest indicator of future feed grain demand, as pork is the most consumed animal protein in the country.
"The outlook for continued U.S. grain exports to China remains solid based on projected growth in pork production and slaughter and thus, steady demand for feed grains," the report said. "However, the current grain run has entered a new phase. We are projecting a period of continued elevated price volatility, coupled with a continued inverted futures market, both of which increases capital requirements for grain merchandisers."