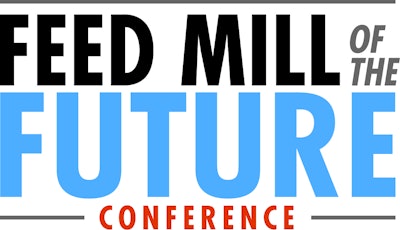 New Feed Mill of the Future Conference highlights technologies, investments companies can explore today to prepare for tomorrow
The Feed Mill of the Future Conference will make its debut at IPPE 2023, as part of the exhibition's education program.
The half-day event, organized by WATT Global Media's Feed Strategy and Feed & Grain magazines, will bring together leading feed industry experts to examine the emerging feed mill technologies and innovations that will impact animal feed manufacturing in the years and decades ahead.
"The Feed Mill of the Future Conference focuses on forward-looking tools, strategies and investments feed producers and industry stakeholders can implement today to position their companies to navigate near-term and long-term challenges," said Jackie Roembke, editor-in-chief of WATT's Feed brands.
Feed milling professionals will walk away with a better understanding of how innovation and early adoption will allow them to achieve their sustainability, productivity and profitability goals.
In support of the event's theme, "How efficiency, innovation and sustainability will shape the feed industry of tomorrow," five speakers will tackle the most pressing feed processing issues, ranging from emerging energy efficiency solutions to how new sensor technologies will improve the feed industry's profitability. In addition, there will be a panel discussion centered around how feed mills can reach their carbon emission goals.
The Feed Mill of the Future Conference will be held on Tuesday, Jan. 24, 2023, from 8:00 a.m. to noon, in the Georgia World Congress Center.
Registration is now open. To attend the Feed Mill of the Future Conference, attendees must first register to attend IPPE. See www.ippexpo.org, and visit the "Education Programs" for details. Onsite registration will also be available.
Conference Program
On-site registration opens at 7:30 a.m.
8 – 8:45 | Imagining, developing the feed industry's future workforce
Speaker: Dr. Adam Fahrenholz, Associate Professor – Feed Milling, North Carolina State University
Labor shortages are an evergreen challenge for the feed industry. Realizing that finding reliable, capable and eager feed mill employees today is especially difficult, what is your company's plan for meeting its employment needs in the future? What specialized skill sets will feed production require? How will new technologies affect the types of employees that can and should be hired? NC State University's Dr. Adam Fahrenholz talks about what feed manufacturers can do to attract and retain the right talent, and how the feed industry can identify and prepare for tomorrow's labor needs.
8:45 – 9:15 a.m. | In-line NIR technology: Lowering costs while delivering quality feed
Speaker: Vinicius Chiappetta, global commercial director, Cargill Digital Solutions
During this presentation, learn how Cargill is using near-infrared (NIR) technology to help mills update formulas in real time, optimizing raw material inclusions and ingredient nutrient values. The speaker will explore how integrating in-line NIR in your feed mill can save on feed costs, improves animal performance and maximizes profitability.
9:15 – 9:45 a.m. | How feed formulation impacts downstream sustainability goals
Speaker: Karel Vervaet, senior product specialist – nutrition, BESTMIX
The animal feed industry is continually navigating many changing factors, including market volatility, ingredient quality parameters, animal nutrition needs and, more recently, how it can limit the environmental impact of protein production. Feed formulation software can provide a rapid response to address these issues. In this talk, BESTMIX's Karel Vervaet will examine how feed formulations can be leveraged to reduce Scope 3 emissions, help downstream customers meet their net-zero targets, and reduce animal ag industry's environmental footprint.
9:45 – 10:10 a.m. | COFFEE BREAK & NETWORKING
10:10 – 10:45 | Energy efficiency: Cutting the kilowatts in your feed mill operation
Speaker: Wayne Cooper, feed industry consultant
As energy costs continue to skyrocket, feed producers are looking for ways to improve energy efficiency in their feed mills. Feed industry consultant Wayne Cooper will provide insights into the strategies feed manufacturers can implement to reduce their energy use per ton while maintaining feed quality and pellet durability. During his talk, Cooper will examine how feed producers can reduce their electric and gas usage while utilizing their current equipment, how to improve energy efficiency in pelleting, and he will look at the role of equipment design.
10:45 – 11:20 | Solar technology and beyond: Managing your energy spend through on-site generation solutions
Speaker: Jeff Haarmann, managing director, Affordable Gas + Electric LLC (AGE)
After recently consulting with swine integrator The Maschhoffs on its feed mill's solar project, AGE's managing director Jeff Haarmann sees opportunity for the feed industry to invest in and benefit from alternative energy technologies. During his talk, Haarmann will discuss how feed producers can deploy solar, on-site natural gas generation, and other technologies to control costs while improving the operation's overall carbon impact on the environment. He will explore on-site co-generation electricity solutions, the deployment of green energy technologies, and offer tips for how the feed industry can control its energy destiny.
11:20 – noon | Panel Discussion: Feed's role in animal ag's path to net-zero carbon emissions
As sustainability drives initiatives across the food and ag value chain, this panel discussion will examine how feed manufacturing equipment, feed mill design and nutrition advancements can impact animal agriculture's overall carbon footprint. Panelists will offer a range of perspectives not only on what the feed industry can do today, but what needs to be done tomorrow for the animal ag sector to reach net-zero.
Panelists:
Ryan Lane, president, ADM Animal Nutrition
Gero Zimmermann, head of technology – animal nutrition, Bühler AG
Alex Kerrigan, vice president – project development, Todd & Sargent
Marcelo Dalmagro, strategic marketing & technology director, Cargill Animal Nutrition
---
= Event At-A-Glance =
2023 Feed Mill of the Future Conference
How efficiency, innovation and sustainability
will shape the feed industry of tomorrow
IPPE 2023 | Atlanta, GA, USA
January 24, 2023 | 8 a.m. – 12:00 p.m. | Room B203

Fee: $95 early bird | $125 after Jan. 6, 2023
Registration: To attend the Feed Mill of the Future Conference, attendees must first register
to attend IPPE. Register for the lowest ticket price today, go to www.ippexpo.org, and visit the "Education Programs" for details.
Pre-registration is encouraged to reserve your seat.
Sponsored by



*Sponsorship opportunities available. Please contact your Feed Strategy or Feed & Grain sales representative.