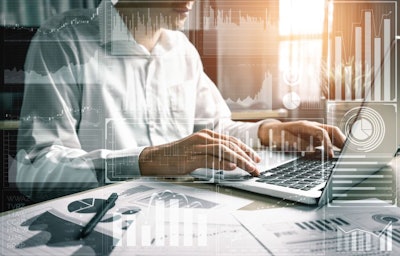 Technology holds potential to move animal feed toward 100% nutrient utilization
Near-infrared (NIR) technology is evolving to help mills update formulas in real time, optimizing raw material inclusions and ingredient nutrient values. Vinicius Chiappetta, global commercial director of Cargill Digital Solutions, joins the Chat to discuss how in-line NIR may shape feed production in the future.
Transcription of Feed Strategy Chat with Vinicius Chiappetta, global commercial director, Cargill Digital Solutions
Jackie Roembke, editor in chief, WATT Feed brands/Feed Strategy: Hello everyone and welcome to Feed Strategy Chat. I am your host, Jackie Roembke, editor in chief of WATT Feed brands and Feed Strategy magazine.
This edition of Feed Strategy Chat is brought to you by WATT Global Media and FeedStrategy.com. FeedStrategy.com is your source for the latest news and leading-edge analysis of the global animal feed industry.
Today, we're talking to Vinicius Chiappetta, global commercial director for Cargill Digital Solutions. He's here to talk about in-line NIR technology and how it can improve quality while lowering costs.
Hi, how are you today?
Vinicius Chiappetta, global commercial director, Cargill Digital Solutions: Hi, Jackie. I'm doing great. Thank you so much.
Roembke: Let's get right into it. What is in-line NIR?
Chiappetta: Before explaining what in-line NIR is, it's important to explain what NIR means. That is near infrared. It is a technology that measures how near-infrared light is reflected by a certain material and can detect the vibration of the organic molecules. Depending on how the vibration takes place, it can identify, for example, the protein, the fat and the water levels of a certain feed ingredient.
In the animal nutrition space, this technology is normally utilized in laboratories, through benchtop NIR or through a handheld NIR. In-line NIR is NIR equipment that can read samples on a continuous flow automatically and this is normally installed at the mixer or at the feed ingredients line. Actually, the secret of this technology is not only in the equipment itself, but also on the equations that calibrate that equipment to provide an accurate translation from the light vibrations into the nutrients, which requires an extensive database of samples being analyzed with wet chemistry to accurately correlate it with the NIR equipment information.
Roembke: How are feed producers today using this technology to lower costs and improve quality?
Chiappetta: Today, this is not a technology that is largely utilized yet, but the feed mills that do use it in two different ways. One way is at the mixer to measure and adjust the humidity of the feed for better pelletization and efficiencies of the feed mill. The second way is at the feed mill ingredient line, which provides nutritional data to reformulate in real time and adjust the dosing of each ingredient before the mixing. So, the feed mill produces a nutritionally precise feed, lowering the cost because we're not wasting any nutrients, and improving the feed quality at the end of the day.
Roembke: Are there any special considerations that feed producers interested in this technology need to have on their radar?
Chiappetta: Yeah, one thing that is important is that the cost of the equipment today is an obstacle. So it only makes sense for an attractive ROI for feed mills that have high production volume because there is an investment in the equipment.
Feed mills that produce less than 10,000 tons of feed per month (aren't) likely to have an attractive ROI with the in-line NIR, unless this reduces over time. But for those midsized or small feed mills, they can always also use the NIR technology by connecting the benchtop NIR or handheld NIR to cloud-based nutrition platforms that bring this information faster to reformulate and produce the feed with some precision. Not the same level of precision of using the in-line NIR, but it increases the precision and the proper use of the nutrients.
But one thing that is also an obstacle is the calibration of the equipment. This requires strong expertise really to install and calibrate an in-line NIR to provide reliable data for these automatic reformulation. So this is also an obstacle when we have learned a lot over the years to learn how to make it work.
Roembke: So what's next? How can this technology potentially shape the production in the future?
Chiappetta: One of the things, right, is that in-line NIR technology by itself does not automatically change and create the value. The data integration with the formulation systems and the feed mill automation systems is really important so everything works automatically, formulating every batch based on this data. But for me, the future is to start correlating all these in-line data and precision nutrition data with the farm performance together with artificial intelligence to be more precise on the economic modeling to optimize the supply chain profitability of the industry as a whole.
Despite the fact that producing a precise nutrition feed is key for our overall contribution on the sustainability efforts, that is driving toward 100% nutrient utilization. So no nutrient waste in this world with in-line technology.
Roembke: Thank you so much. If you'll be at IPPE 2023 in Atlanta — and you want to know more about this topic — consider joining us at the Feed Mill of the Future Conference on January 24. Here, Vinicius will present "In-line NIR technology: Lowering costs while delivering quality feed." For more information, visit www.feedmillofthefuture.com.
---
= Event At-A-Glance =
2023 Feed Mill of the Future Conference
How efficiency, innovation and sustainability
will shape the feed industry of tomorrow
Co-located with IPPE 2023 | Atlanta, Ga., USA
January 24, 2023 | 8 a.m. – 12:00 p.m. | Room B203

Fee: $95 early bird | $125 after January 6, 2023
View the full agenda here: www.feedmillofthefuture.com
How to register: To attend the Feed Mill of the Future Conference, attendees must first register
to attend IPPE. Register today for the lowest ticket price, go to www.ippexpo.org, and visit the "Education Programs" for details.