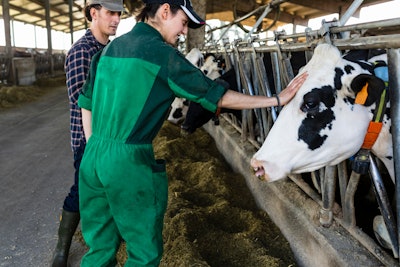 massimo Colombo | iStock.com
Nutritionists will play an integral role in lowering the environmental footprint of dairy production in the U.S., according to Fabian Bernal, vice president of measuring and modeling at Dairy Management Inc.
Thirty-five percent of the environmental footprint of dairy production comes from enteric methane, 33% comes from manure, 26% comes from feed and 6% comes from energy, he said.
By 2050, the U.S. dairy industry has collectively committed to achieving greenhouse gas (GHG) neutrality, optimizing water use while maximizing recycling and improving water quality by optimizing utilization of manure and nutrients in what is called the Net Zero Initiative (NZI).
Bernal explained the details of the NZI at the American Feed Industry Association's (AFIA) Liquid Feed Symposium (LFS) in Louisville, Kentucky, in September.
"What we are creating is extremely important, and it is setting the pace for change around the world," he said.
Reducing emissions from feed will be key to reducing overall emissions from dairy production, Bernal said, so feed formulation will need to support production and profitability, as well as environmental objectives, simultaneously.
"So we're starting to understand that nutritionists will have a tremendous, tremendous impact on the discussion going forward," he said. "Formulating balanced rations with solid feeding programs that understand this double output rather than only one-sided output will become the norm."
In the U.S. especially, one of the biggest challenges to formulating feed to reduce emissions is the lack of regulatory approval for feed additives that can reduce emissions, such as seaweed and 3-Nitrooxypropanol (3-NOP).
"I think the greatest difficulty right now is policy and approval on some of these products that could have a great impact on ruminal methane production," Bernal said. "And we're stuck a little bit in this process of approvals, even though many of these products are already here, but they're just not approved."
A recent effort to ease the approval process for feed additives in the U.S. failed, but AFIA says it plans to continue working to find a solution.
Other ways to reduce emissions
In addition to feed additives and ration innovation, grazing management and genetic advancements can reduce emissions from beef and dairy cattle, said Samantha Werth, executive director of the U.S. Roundtable for Sustainable Beef and senior director of sustainability at the National Cattlemen's Beef Association, who also spoke at LFS.
"If we were to utilize new technology, new feed ingredients, better management strategies wherever we can to make animals more efficient, both here in the U.S. and globally, then we could have the potential to actually reduce total methane emissions and have a net cooling effect," she said. "So, if we're reducing methane produced over a 10-year time span, then we're going to see a significant decrease in actual warming effects related to cattle."
Adaptive grazing management, she said, could result in enhanced soil carbon sequestration, better nutrient and water cycling and higher-quality forages, among other benefits. Genetic advancements could support reproductive efficiency, better feed conversion and higher yields, and may even lead to the genetic selection of low-methane-emitting animals.
"All of these things combined have a greater impact as well, right? So we know that if we have more healthy animals, they're more productive. We know that if they have better diets, they're going to be more productive. More productive means less emissions," she said.
Ellen Dierenfeld, World Wildlife Fund's lead specialist, sustainable feed innovations, agreed, and said emissions-reducing strategies used in the dairy industry can also be used in beef production.
"There's been a number of methane reduction strategies that have come out of the dairy chain. And, actually, dairy has had been very sustainable over the years," she said. "In fact, we probably optimized the feed efficiency through improved genetics and diets better than anyone else in the world … but even management aspects in terms of pasture production and pasture management can be applied to grazing ruminants as well. So, any of these aspects that work within the dairy industry can be modified and/or applied to beef."
'Profit is a good thing'
Echoing Bernal's point that producers must meet environmental objectives while remaining profitable, Ashley Hughes, owner/president of Ashley Hughes Consulting, reminded attendees at LFS that profits are good and necessary.
"You have to be economically or financially profitable in order to continue on," she said. "We have to be unashamed to talk about the fact that profit is a good thing. Without a profit, nobody's continuing on. I don't care how many of these initiatives you would like to do, if there's no money to do them, you're not doing them."
That's why it's good for the industry – and the environment – that sustainability can be economically beneficial to a dairy or beef producer, as well as the entire industry.
"When you look at implementing a lot of these different sustainability practices, there's going to be benefits to the operation. Hopefully you're going to be using your resources more efficiently. Hopefully you're going to be reducing your input costs and ultimately having that healthier, more productive livestock," she said. "There are so many ways to incorporate sustainability in a really authentic, meaningful way that's going to make a difference for the overall industry."
'Wild West' of carbon credits
Agricultural producers who are participating in some of these emissions-reducing activities can earn money by selling their carbon credits. The farmer produces a carbon credit by reducing their GHG emissions below the baseline level, and then these credits can be sold to companies or governments that need to offset their own emissions.
While environmental consultant Tara Vander Dussen called carbon credits "the Wild West," the general sentiment among speakers at LFS was that farmers who are selling carbon credits should be selling them within the agriculture industry in order to further contribute to the industry's emissions reduction.
"There's still so much unknown about carbon credits, but it can be a new income source for a lot of agriculture, farmers across the space. If you are sequestering carbon into your soils or you are changing your manure management practices, you could be selling your carbon credits," she said. "I know a dairy farmer that is selling carbon credits and has created an entirely new market for himself beyond milk."