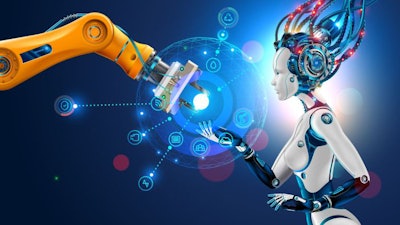 How feed technologies and a changing workforce will shape feed production and mill design
What investments should your operation make to today to prepare it for the evolution of feed production? How will technology and changing macro trends shape how animal feed is formulated, manufactured and transported in the decades ahead?
"Imagining the feed mill of the future" panelists tackled these topics at the 2022 Feed Strategy Conference. The discussion ranged from advances in sensor technology applications to possibilities of the adoption of the "lights out" concept, but there were two key takeaways for future-proofing feed production:
Tightening up labor needs
"It seems we're at a momentous moment in our history with this critical labor shortage," said Aidan Connolly with AgriTech Capital. "It's such a huge issue and we're seeing a lot of investment in technology going here."
Advances in automation made possible with robotics, sensors, artificial intelligence and camera vision accelerated during the pandemic as labor shortages have plagued businesses across all industries.
"It seems clear where these trends are going — eliminate as much labor as we can," he said.
Reductions in energy consumption from a cost-savings and sustainability perspective
WEM Automation's Pete Ensch believes one of the starting points for feed producers is to embrace energy monitoring and energy management.
"The technology is out there. It's a matter of just installing sensors, meters, sub meters, and capturing what energy you're using and trying to reduce your consumption," he said. "In the U.S., we've been blessed with very cheap energy … but when you start letting the sustainability argument come over, I think it's going to be a greater focus going forward."
Introducing Feed Mill of the Future
To answer some of these key questions and highlight the new feed milling solutions on the market and in development, WATT's feed brands Feed Strategy and Feed & Grain magazines have joined forces to launch the monthly Feed Mill of the Future digital supplement. Each edition aims to provide animal feed industry stakeholders with forward-looking content, market insights and a spotlight on the leading-edge technologies shaping the global feed industry of tomorrow.
Watch Feed Strategy Conference panel discussion
In case you missed it at the Feed Strategy Conference, you can watch the "Imagining the feed mill of the future" panel discussion below.
Moderator: Elise Schafer, editor, Feed & Grain magazine
Panelists:
Scott Anderson, general sales manager, California Pellet Mill (CPM)
Peter Ensch, CEO, WEM Automation LLC
Aidan Connolly, AgriTech Capital
Loren Field, executive vice president, Younglove Construction
Subscribe to the Feed Mill of the Future digital supplement today! https://bit.ly/3dWzow7