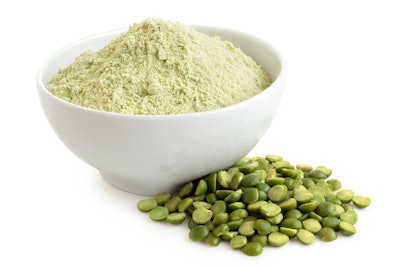 While pea proteins are a more expensive alternative, it has many advantages and is already a popular ingredient in the human food and beverage space.
Pea protein is becoming a more common ingredient in human food products, but it is also slowly gaining traction in the aquafeed and pet food markets.
There are many advantages to pea protein, from nutrition to handling to sustainability, experts say, and it a good alternative to other plant proteins.
Aside from aquafeed and pet food, pea protein can be fed to many livestock species, including ruminants, poultry and swine, and is often used in animal feed as an alternative to soy protein. Importantly in Europe, it can be sourced locally, while most soy is sourced from outside the EU.
Experts say pea protein has a very good protein content (80%) plus provides a concentrated source of essential amino acids.
"It can replace other sources of protein from a vegetal origin — like corn gluten meal, wheat gluten meal and potato protein — as well as animal-origin protein like poultry meal and fishmeal," said Christophe Blondet, vice president, product development and applications, ADM Animal Nutrition. "Pea protein can also be used to replace other protein sources through fermentation."
According to Stefan Hoh, head of market segment feed and premix, Bühler Group, pea protein is easy to handle during processing and has few challenges.
"If pea protein isolates are used, there are no limitations or special requirements as compared to any other ingredient," Hoh said. "However, the separation step of the pea protein itself is different from the one from soybeans. Typical challenges are the dehulling of peas at the best efficiency, as peas are different from region to region and from season to season."
Blondet said pea protein is favorable to product developers, as it is easy to manufacture without extensive process modifications, and it works well for extruded feed and pet food.
Companies in the protein space appreciate the many sustainability features pea protein has to offer, despite it being more expensive than soy.
"As global players in animal nutrition and alternative proteins industries, it is our responsibility to reduce the environmental effects of agrifood production," Blondet said. "Sustainable farming is one way to minimize our carbon footprint and legumes are very sustainable raw materials. Pea is recommended for introduction into crop rotation to improve yields and reduce the amount of nitrogen fertilizers added. Pea farming does not contribute to deforestation and it's a safe nutritional ingredient that contributes to a well-balanced mix that can optimize animal health for improved outputs. We're pleased to see many producers prioritizing sustainability over profit so they can have a more positive impact on the environment."
Room to grow in animal feed, pet food
Although Blondet said pea protein is not widely used in most animal feeds, its advantages mean it could see growth in the future.
"Pea protein is currently a limited alternative ingredient for most animal feeds," he said. "Even so, its many advantages will hopefully make pea protein more attractive to produce so that it can be applied more readily to both human and animal nutrition."
Because pea protein has a naturally high protein content, "with greater concentration in less volume, pea protein allows more space in the formulation for other functional ingredients or other protein varieties," Blondet said. "For example, a salmon diet requires 40-45% protein, which is achieved with a combination of raw materials such as pea protein, soy protein concentrate and fishmeal. In addition, pea protein is non-GMO, grain free, gluten free and responsibly sourced from regions like the U.S. and Canada. These attributes give pea a good image with pet owners and consumers."
Hoh noted that, because peas are typically grown GMO-free, they are "a first-choice ingredient in organic feed formulations." However, "a hurdle is the comparatively low methionine content, which needs to be substituted, especially in feed formulations for dairy cows. Additionally, market prices are about two times of soy protein, limiting its use in low-cost feed formulations."
Popular as a human food ingredient
While pea protein is taking some time to catch on as an animal feed ingredient, "in human diets, pea protein is a rising star in plant-based formulation," according to Melissa Machen, senior technical services lead at Cargill. "Interest in plant-based ingredients has been growing for several years, with no signs of slowing. Plant-based ingredients fit today's biggest trends in food and beverage product development. Perceived as natural, label-friendly, and sustainable, they deliver on many critical points for today's discerning shoppers."
Mike Zora, vice president, alternative proteins, ADM, said food and beverage products made with pea proteins have doubled globally in the past five years, while Innova Market Insights finds that, globally, new product launches with pea protein are up 18.24% from 2016.
"As more consumers adopt a flexitarian lifestyle, alternatives like pea protein are increasingly incorporated in new product launches," Zora said. "Research indicates global plant protein consumers, defined as flexitarians, vegetarians and vegans, consider the top attributes of pea protein to be healthy, nutritious, safe, and clean and natural."
He added that he sees the blending of pea protein with other plant proteins as a way to meet the goal of producing a plant-based food or beverages with protein levels comparable to traditional meat and dairy products. Some of ADM's plant-based protein blends include pea protein, as well as rice or wheat.
"These protein blends also support protein diversity and consumer perceptions of positive nutrition in a wide range of products, including bakery, snacks, cereal, beverages and popular dairy alternative products," Zora said. "Our wheat and pea protein blend has clean flavor, is vegan and boasts a protein digestibility corrected amino acid score (PDCAAS) of 0.89. Similarly, our non-GMO, vegan pea and rice blend boasts a PDCAAS of 0.95 and is free from common allergens like nuts or soy."
Christoph Vogel, head of market segment proteins and ingredients, Bühler Group, said that pea protein is becoming more accepted by consumers as a plant-based meat substitute than soy.
"Pea protein is a growing ingredient for plant-based meat substitutes," he said. "In the past, (growth) was mainly driven by soy protein, but specifically in North America and Europe, pea has a better consumer perception than soy."
He added that pea protein has good emulsification and gelling properties — useful attributes for use in human food products.
Machen said pea protein is well suited for today's consumer and producer demands.
"Functionally, nutritionally and from a label perspective, pea protein can help brands achieve their formulation goals across a range of applications. In particular, we believe it is especially well suited for the exploding use of plant-based proteins in the dairy and meat spaces, thanks to its emulsifying and water-binding capabilities."
Announcing the Feed Mill of the Future digital supplement

WATT's feed brand's Feed Strategy and Feed & Grain magazines join forces to launch the monthly Feed Mill of the Future digital supplement. Each edition aims to provide animal feed industry stakeholders with forward-looking content, market insights and a spotlight on the leading-edge technologies shaping the global feed industry of tomorrow.

Subscribe today! https://bit.ly/3dWzow7