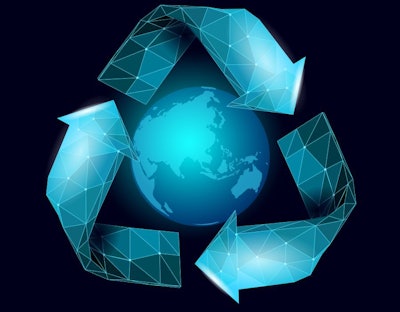 Upcycling human food, new ingredients provide path to offset the environmental footprint of feed manufacturing
In 2019, the EAT-Lancet Commission turned heads — and in some cases raised industry ire — when it issued a report indicating that sustainable food production would require most people limit their consumption of meat to 203 grams of poultry, 196 grams of fish and 98 grams of red meat. And for most conscientious consumers, this is what it means to eat a healthy, planet-friendly diet: an emphasis on white meat, if any meat is consumed at all.
Experts who study food and natural systems say there may be an alternative. Circular animal feed, which aims to minimize food waste as much as possible by maximizing the use of co-products when feeding livestock, could actually be better for the planet, they say. But the resulting human diet could be somewhat different than what EAT-Lancet and many others envisioned.
"We found that optimal use of these ecological leftovers required a variety of animals that differ in their ability to convert feed into animal-sourced food," says Benjamin van Selm, a Ph.D. candidate at Wageningen University and the lead author on a report comparing circular food systems to the EAT-Lancet diet.
"Pigs have a large stomach, which make them good at converting byproducts and food waste into meat, while ruminants can convert grassland into milk and meat," van Selm says. "Poultry are very efficient converters of feed into meat and eggs but require quality feed to do so. … By favoring poultry that required additional feed production with its related impacts, the EAT-Lancet diet results in a higher land use and greenhouse gas emissions than our diet with the similar amount of animal source food fed solely on the available byproducts, waste and grass."
Many environmentalists also see potential benefits in a circular food system that upcycles would-be waste products through livestock production.
The production of staple feedstuffs such as corn and soybeans requires massive tracts of land and contributes to deforestation — recycling food waste could alleviate pressure on wild landscapes and in doing so help preserve biodiversity, according to Pete Pearson, who heads the global food loss and waste initiative at the World Wildlife Fund. And of course the feed industry already uses large quantities of what could otherwise become food waste — co-products and byproducts constituted 40% of the feed produced in 2021, according to Lara Moody, executive director of the Institute for Feed Education and Research.
So what more can be done to minimize food waste and promote fully circular global food systems? Experts like Pearson and Moody say it's a question of streamlining information and supply chains.
Exploring circularity in feed
Circularity — thinking of food production as a cycle rather than a linear process of resource depletion — may seem like a new concept, but the European Feed Manufacturers' Federation (FEFAC) argues that, in reality, it takes us back to our roots. The organization contends in a report on circular feed for the industry that, historically, domestic animals survived eating food residues humans did not consume.
Yet there are also aspects of circular feed which could be considered state-of-the-art, with the emergence of interest in using insects, algae and even single-cell organisms to recover an even greater percentage of nutrients from products that otherwise might go to waste. And circularity increasingly appears in progressive policy movements — the EU's Farm to Fork, for example, calls for the development of a circular economy in an effort to cut food waste and nutrient loss by half.
"Former foodstuffs are in essence considered an alternative to cereals grains, but they have earned their own reputation," says Karel van der Velden, vice chair of FEFAC's sustainability committee. "Many animal nutritionists appreciate that a product like bread meal has even better digestibility than a common feed wheat, thanks to the use of high-quality, food-grade wheat and the positive effects of the bread baking process."
Animal producers are, in general, eager to adopt any feed ingredient that is safe, effective and low-cost, so FEFAC argues that increasing the adoption of circular feed systems will rely on factors such as accessibility.
The location of a feed mill, for example, is one factor in determining whether, and what kind, of byproducts and co-products the mill will have access to. Startups are also looking at ways to help feed mills connect with available byproducts, and reduce the cost of processing and transporting the waste, Pearson says.
"There's always a need for matchmaking and facilitation, but we don't have the infrastructure to do this at scale," he says. "We have various infrastructure for food waste, like composting facilities, which are relatively lower in price. But … on the waste to feed side, you have to pick up the waste, process it, and that takes infrastructure. So everyone is scrambling to find what investments have the greatest long-term value."
But FEFAC notes that, in some cases, regulatory restrictions prevent animal producers from accessing otherwise suitable feedstuffs. For example, mixed waste streams containing meat are barred from re-entering the food chain, even though insects, algae and other microorganisms could play a role in rendering these products safe for use.
"What's hard is countries all over the world have different ways of regulating waste to feed — and safety is really important, because there is no room for error there," Pearson says. "But we're also finding you can have a really good process that delivers a food-safe product, and an animal-safe product, and it utilizes resources that are otherwise getting dumped into the ground."
Advances in technology may also help make circular feed ingredients more available.
For example. phosphate minerals for animal feed come primarily from rock mines, according to FEFAC, but the technology exists today to recovery this nutrient from sewage sludge. Some single-cell organisms may even be able to recycle nutrients from waste gases such as CO2, ammonia and methane.
Considering the way livestock is bred could also prove fruitful for the circular economy, van der Velden says.
"We should also consider the potential for using different kinds of animal breeds, which traditionally have been geared towards higher performance and higher feed conversion ratios, rather than robustness and capability to digest feed ingredients of a lower quality grade," he says.
New ingredient adoption
In spite of the promise of circular feeding, some barriers to the adoption of these ingredients have actually increased in recent years — including, in some cases, increased consumer opposition to feeding animals products perceived as unnatural. These expectations have even managed to make their way into some of the industry certificates that tend to appeal to the same consumer base seeking sustainable products, such as animal welfare certifications.
"Many animal welfare certifications that exist focus on grain-fed diets, for example in chickens, which is interesting because a chicken's natural diet is to eat insects," Pearson says. " I think we need to look at that and get the industry groups that codify those certifications to allow for feed that includes animal proteins safely."
Another significant challenge to the use of circular feed ingredients is the irregularity of supply, and competition for resources from other industries. One area having a major impact on the market, Moody says, is the rapid growth in biofuel production.
Where soybean oil was once a widely available byproduct of soybean processing, the majority of the oil now goes to biofuel product — so much so that the fuels now generate substantial demand for the soybeans themselves. But this has made more soybean meal available for use in feed, Moody says.
While such shifts can come with tradeoffs and potential for collaboration, FEFAC argues this competition for byproducts calls for a more assertive stance from the feed industry.
"We must understand that we are just one of the actors in the bio-economy," van der Velden says. "What we consider circular feed is often also considered a feedstock for biogas production. As a feed industry we must therefore also make it clear that their use in feed is the most sustainable option and contributes to a more sustainable livestock production system."
But perhaps the greater barrier to the adoption of more circular feed ingredients, Moody says, is the lack of accurate, traceable environmental data. These ingredients come with a host of potential benefits such as landfill avoidance, reduced food waste, water recovery, a smaller overall environmental footprint. And with growing environmental awareness among consumers, a more sustainable feed product could potentially charge a premium if only they had a way to quantify their positive attributes.
"We aren't doing a great job of quantifying the benefits of co-products and byproducts," she says. "We can quantify the volume, message on the ingredients available, but ultimately we're not doing a great job at measuring the impact or benefits that circularity provides. Until we further explore the best way to do that, it's hard to have a message that you can take to the consumer."
Efforts to improve this situation are already underway, including a collaboration between IFEEDER and WWF, which sees improved circularity and environmental metrics as a way to show consumers what a truly sustainable food system might look like. If consumers could understand the ways in which animal agriculture can benefit the environment, Pearson says, they could make more informed decisions about how animal products fit within a healthy diet.
"You need to factor in circularity, which is making full use of everything you are producing," he says. "What we're finding is … a lot of these livestock herds are almost entirely fed on byproducts. That's the beauty of when we start to really uncover what these surpluses are and take accountability."
---
Announcing the Feed Mill of the Future digital supplement

WATT's feed brands Feed Strategy and Feed & Grain magazines join forces to launch the monthly Feed Mill of the Future digital supplement. Each edition aims to provide animal feed industry stakeholders with forward-looking content, market insights and a spotlight on the leading-edge technologies shaping the global feed industry of tomorrow.

Subscribe today! https://bit.ly/3dWzow7