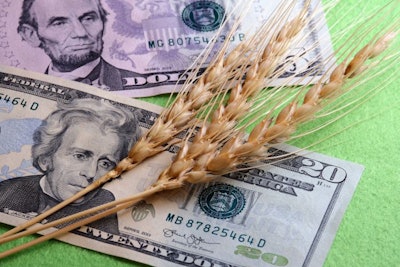 Rabobank: Feed costs will remain high throughout the year
Animal feed costs are expected to remain high for the rest of the year, according to Rabobank's latest North American Agribusiness Review.
While soybean meal prices have been on a downward trend in recent weeks, Rabobank said elevated prices are expected to continue in the short term.
Meanwhile, hot and dry weather could lead to lower feed demand if cattle and hogs are culled at a higher rate.
Weather is also the main factor affecting the volatile corn market.
"Like every year, it boils down to weather and yield, and this year is no exception. It is particularly true this year. Because we entered the growing season dry, timely rains are going to be critical for this crop's development," the report said. "We are clearly in a weather market. Every change in the weather forecast creates a market selloff or rally – buying and selling opportunities."
Along with weather, corn exports will be a major driver of corn prices, with the U.S. seeing record exports to China. Additionally, Brazil is expected to see a smaller-than-predicted corn harvest.
In the soybean market, supplies are tight, Rabobank said.
"Soybean crush and exports have slowed due to high prices, low stocks and a seasonal decline in exports," the report said.
Poultry and pork markets
The pandemic-year disruption in the poultry market make it challenging to compare production and slaughter rates, but weekly chicken production was 3.1% lower in the first quarter than in the previous year. However, ready-to-cook production and slaughter are averaging 4% higher than a year ago. Weights are increasing as the industry responds to demand for breast meat.
"Chicken prices reached record levels for most cuts in recent weeks on strong consumer demand, low inventories and the industry's limited ability to respond," the report said.
Chicken exports are up 2.1% compared with a year ago, with strong shipments to China, Angola, the Philippines and Cuba.
In Mexico, chicken prices are 140% higher than a year ago and well above historic averages.
In the pork market, production continues to fall, "reflecting lower hog inventories and labor constraints," Rabobank said.
U.S. pork production is expected to fall less than 1% in 2021.
"Record high hog prices are likely to incentivize faster growth, yet with feed cost uncertainty and impending Proposition 12 housing regulations potentially limiting expansion, we could see a slower recovery in production," the report said.
U.S. pork exports fell 10.1% in April, driven by lower exports to China, Japan and Canada.
In Mexico, hog prices are up 120% from a year ago due to herd health issues.