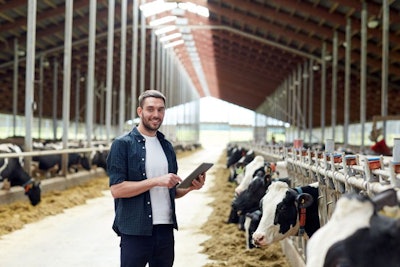 Animal nutrition companies use real-time data to create valuable outcomes for producers
Digital technology and data collection can take precision animal nutrition a step further by using a wide range of real-time information to adjust and improve several factors that ultimately improve productivity.
"Modern animal production is tied to factors associated with fluctuating feed prices, disease challenges and strict environmental regulations," said Juan Miguel Peralvo, nutritionist for South and Central America at Trouw Nutrition. "Those factors interplay between them to increase or reduce the profit that animal producers generate every year. However, in some cases, due to the high cost of commodities used in feed and outbreak of disease, losses have overweighted profits. Therefore, technological tools that help to reduce this burden are highly valuable for animal producers."
From nutrient composition analysis to quality monitoring to feed cost reduction, modeling tools by companies including Trouw, Cargill and Evonik can help producers arrive at the most cost-effective decisions that make the most sense on their farm.
"Animal modeling is a step further from precision nutrition because it is a dynamic tool offering different scenarios tailored to the specific need of each customer," Peralvo said. "Furthermore, information constantly improves based on updated data and it also allows users to predict the best possible solution aimed at productivity, margin over feed cost, or even the lowest nitrogen or phosphorus excretion into the environment."
Trouw's suite of digital nutrition solutions, called NutriOpt, provides "precise nutrition based on accurate feedstuff evaluation and constant support from highly specialized technical professionals," he said. Additionally, it uses economic animal models to increase productivity based on customized nutrition from data generated by individual farm characteristics, environmental conditions and on-farm productivity levels.
"Those models have allowed nutritionists and producers to make better decisions aimed to increase profit, production parameters, and even reduce the environmental impact of animal production," Peralvo said.
A dynamic approach to precision nutrition
The key to successfully feeding cows is to ensure consistent nutrient delivery to match the needs of the animal and the goals of the farm. The Cargill Nutrition System (CNS) has a "dynamic approach to precision nutrition" by using digestion kinetics – incorporating extent and rate of digestion, rather than using static values – to deliver tailor-made solutions, said Suzanne Petersen, director, strategic marketing and technology for ruminants at Cargill. In addition, it is an integrated data system that directly connects feed manufacturing to farm diet formulation.
"The product that will be manufactured for an individual farm is actually designed in the formulation system at the same time as the complete diet for a group of animals is formulated," she said.
The primary output of the company's diet formulation system, called MAX – part of CNS – is the formulation or analysis of a diet including the nutrient composition, nutrient digestibility, animal performance and economics.
"This ensures that the product contains exactly what the animals being fed will need for optimum health and performance," Petersen said. "And, as on-farm ingredients change, the product being manufactured is updated with the nutrient content information at the feed manufacturing plant to maintain a consistent nutrient supply to the animals."
Within CNS, on-farm ingredients (forages, byproducts, grains) and ingredients at the manufacturing plants are analyzed in the same laboratory to ensure consistency in defining the nutrient content that is fed to the animals and, consequently, accuracy in nutrition delivery.
"Analyses include the comparison of different ingredients based on their nutrient composition to help make decisions around the most cost-effective ingredient balancing, or even the most cost-effective suppliers of an ingredient from which to purchase," Petersen said. "The models and algorithms start from either internal or university trial data, but one of biggest advantages of the MAX system is the constant feedback we get from over 800 users and millions of cows worldwide about the accuracy of the nutrient supply, animal requirements and performance predictions."
Data integrations across CNS allow the flow of ingredient lab analysis results to be available to product formulation systems for the feed manufacturing plant in real time. This automates the process of setting up product specifications at the plant, removing the need to manually enter ingredient/nutrient constraints, ensuring efficiency and minimizing error, plus allows for efficient formulation reviews before being sent to the batching system for manufacturing.
"This level of integration is core to the precision of our nutrition. CNS also ensures financial precision of our diets; data from the feed manufacturing plant includes current market information to optimize the final cost of the feed delivered to the animals," she said. "The largest benefit really comes in when we can ask MAX to go beyond just the basic ration formulation capabilities to look deeper into things like ingredient purchasing decisions and economic return."
Evonik's Porphyrio products combine nutrition backed up by science, the latest near-infrared (NIR) technology and algorithm with practical application, said Johann Fickler, vice president of marketing and sales, precision livestock farming at animal nutrition for Evonik.
"Today, it is enabling our customers to formulate feed according (to) the target specification – each batch, day-by-day, the same quality," he said. "Precision nutrition has its limitation if you are not connected with the performance parameters of your animals. Hence we made the next step into the entire value chain with precision livestock farming – beginning with raw material quality and ending today with meat delivered to a processing plant."
Things to keep in mind
While these technological tools can lead to more automation and less chance for human error such as incorrect data entry, Peralvo said there are three main things to consider before implementing a model in animal production.
"First, the importance of accuracy of the data provided to build up the model. Second, a clear definition of the production objectives or goals must be addressed before running any model. Third, the (implementation) of an animal model is not just a new feed plan but also it requires constant evaluation and feedback of animal performance inside the farm," he said.
Fickler added that modeling tools require a lot of experience and knowledge about regional production methods as well as the time and effort for fine-tuning. He also said better feed design may affect the sourcing of macro- and micro-ingredients.
"Most important is the raw material purchasing strategy and how many raw materials need to (be) handled in a feed mill as well as how much storage capacity is available with an expected turnover," he said.
These new tools may require a new perspective when it comes to animal nutrition and feed formulation, but the result can be improved profitability on the farm and flexibility in the feed mill.
"An important characteristic of animal modeling is the capability to include in formulation feedstuff that might not be considered in the normal precision formulation," Peralvo said. "This is important since animal modeling requirements are tailored to improve economic return and not necessarily to maximize animal growth."