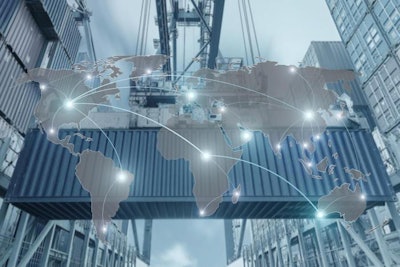 Artificial intelligence can create efficiencies all along the supply chain, including feed ordering and delivery, transportation and logistics, and improve transparency
From scheduling, routing, ordering and delivery to load planning, tracking and risk management, artificial intelligence (AI) can assist the feed and grain industries in many ways along the supply chain.
AI's ability to absorb massive amounts of data and quickly analyze and run multiple scenarios can optimize operations, resulting in efficiencies and cost savings, according to Mike Shindelar, CEO of DP Techlink, a feed delivery tracking software and technology company based in Urbandale, Iowa.
"By utilizing AI, the feed mill can enhance feed production scheduling by using customer-defined parameters such as feed bin inventories, feed consumption rates, sequencing requirements and feed formulation criteria to produce the right feed at the right time," Shindelar said. "AI can also maximize feed delivery routing by incorporating real-time information such as road and traffic conditions, weather issues and customer-specific biosecurity protocols."
And, for transportation and logistics (T&L) companies, AI can lower costs, said Caitlin Murphy, CEO of Global Gateway Logistics, a global freight forwarding and logistics consulting company based in St. Louis.
"Load planning is something that we would recommend as a way to utilize AI in agriculture. AI tools allow for load optimization factors that can potentially increase the amount of cargo loaded into each container and drive down the overall landed cost of the order," she said.
AI can also bring more stability to supply chains and improve traceability, Murphy and Shindelar agreed.
"Being able to trace back to the exact location and origin of the ingredient allows for the feed and grain industry to pinpoint success and failure with output closer. In addition, there are tools that will track temperature, movement and more within a shipping container," Murphy said.
Because feed and grain industries rely on historical data for their daily operations, it was difficult for one entity to see the life cycle of a sale, she said.
With AI, "they can view from seed to sale to delivery. AI can assess defects in products, supply chain disruptions, and mitigates risk," she said.
AI can also improve transparency along the supply chain, Shindelar said.
"AI will be able to gather, analyze and report from all of the different and various data sources along the 'farm-to-table' process, which will allow quick and easy traceability," he said. "There is no reason why you should not be able to know exactly what went into the production of your T-bone steak or pork roast."
Humans still required
While Shindelar sees AI as the key component to autonomous feed delivery, Murphy points out that the logistics industry is not self-autonomous and requires human presence.
"Our mentality on AI is that it can empower humans to work smarter and more efficiently, however, there is still a requirement for human brainpower to decipher what is correct and what is not," Murphy said.
Shindelar said AI can alleviate labor shortages and improve labor output.
"With the continued shortage of labor, specifically related to truck drivers, our ultimate goal as a logistic software company is to be an integral component of the autonomous feed delivery process," Shindelar said.
AI will eventually be able to allow for a single person to manage multiple delivery units at one time. It can also alleviate labor shortages by using technology to complete repetitive tasks and activities in the T&L processes, which could "double, triple the amount of output with your existing labor level and better performance," he said. "Focusing AI on doing the routine and mundane tasks in the T&L and feed industry to improve productivity and eliminate mistakes will be the key to making the technology a success."
However, Murphy said, the industry is still experiencing driver shortages, warehouse labor shortages, terminal labor shortages and more.
"The logistics industry is not self-autonomous and requires the ingenuity and hard work of humans every day," she said. But, AI "can assist certain areas right now, such as container tracking and container loading and unloading optimization mix at a port."
AI can also take all the variables in the logistics process and "assist in perfecting the accuracy of the data," Murphy said. "For example, tools like ChatGPT can help a freight forwarder to quickly assess customs documentation requirements overseas for a shipment."
Feed forecasting the next 'big thing'
Shindelar said that, with AI and other existing technologies, feed forecasting will be the next "big thing" in the feed industry.
"One of the biggest issues we hear from our feed customers is the inability of their customers to accurately 'order' feed properly. This, in turn, drives a lot of inefficiencies into the feed production/delivery schedule," he said. "For example, in the swine industry, most of the large integrators have a ton of actual production information" such as growth curves, actual formulation performance, feed consumption based on age, temperatures and other environmental conditions.
"This, combined with newer bin inventory technology, feed delivery verification and a prescribed age-dependent diet combined with real time production information, will allow AI technology to accurately 'order' feed with no or limited human interaction," he said.